The best view you ever wanted
why should you choose us?
Atmosphere
When you are on Holiday: you probably like a genuine ambiance, and have a chance to socialize with the other guests and with David & Barbara. especially if you don't like big Residences or big Hotels, Casa Barbara's size and features are perfect for you.
Location
If you don't like to stay in a noisy environment in the center and at the same time get there walking within a few minutes,
if you do not want to suffer the summer heat but you always want to enjoy an evening breeze,
if you want to find a parking place close the house,
… and especially if you want to enjoy one of the most beautiful sea views of Liguria
our Holiday Home in Finale Ligure is the right choice for you.
Quiet
I you don't want to hear cars, trains and the noise of street people's voices until late evening,
but you like to hear the sea, gulls, cicadas and frogs
our Holiday Apartments is the right choice for you.
Garden and Yard
If you want to have dinner outside in the garden or on the big terrace or if you want to organize a stone barbecue with your friends,
if you want your children play Basketball and Ping Pong in the yard without dangers,
if you need space to store and maintain your MTB
our Holiday Home in Finale Ligure is the right choice for you.
Services
A stable and powerful internet WiFi in all apartment and outside,
a guest portal where you can looking for all information about Finale and surroundings, events and a lot of advises from David & Barbara,
if you want that in your house there are all you need
Come to visit us.
Staff
Barbara and David live next door and they are always available whenever you need us,
advice and help you to spend a fantastic holidays in Finale Ligure.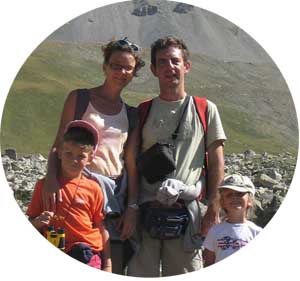 Holiday Home Casa Barbara Idea born from a simple thinking, we would like to offer you what we look for when we are in Holiday.When we are visiting a new place, we like to smell the local atmosphere, eat local foods, known story and traditions. We like to know local people and listen to their stories, we like to know their culture and to visit places that the standard turist doesn't visit.
To do that we almost never choose an hotel, but we prefer apartments, farm holidays, Guesthouse, Bed&Breakfast, the more they are "true", the more we like them.