Finale Ligure Holiday Home
The Holiday Home Casa Barbara is located 350 mt far from Finale Ligure city Center 5 minutes by walk you can reach San Giovanni Battista church, the main square, and the Finale Ligure beach and sea.
Srtategic position, just 50m away from the sea level. Barbara house from one side an amazing Ligurian Sea view and a unparalleled tranquility, from the other side you dont need your car to of the beach to the beaches of Finale Ligure high season.
Walking Itinerary to the beach
Via Legnino
1.Follow SE Direction from Via Legnino to Via Generale Enrico Caviglia 0,2 km – about 2 min
Via Generale Enrico Caviglia
2. Cross the road and go down to the stair. Turn left in Salita del Grillo 30 m
0,03 km – About 30 sec
Salita del Grillo

3. Proceed Est Direction Salita del Grillo , direction SP1/Via Torino 0,1 km
 4. Turn Right in SP1/Via Torino 18 m (Q8 Fuel Station)
 5. Turn Left in Via Bernini 92 m
 6. Turn Right in Vico Rossi 25 m
 7. Turn Left in Vico Prasca 21 m
 8. Follow Vico dei Travi 51 m
 Vico dei Travi
Beaches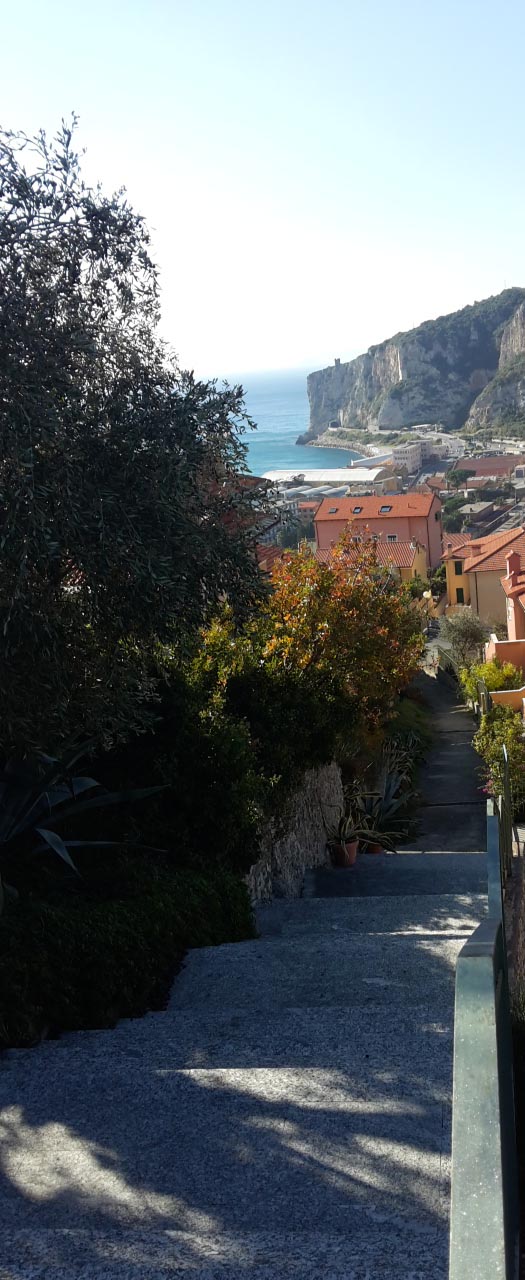 How to reach us
Easy to reach by car, train or airplane.
3,5 Km from Finale Ligure high-way exit
Railway station : 600 Metri.
Genoa Airport: 40 min Nice Airport: 1h 30 min Milan Airports: 2 h
Contacts
Sending your data you will acceprt GDPR Privacy law